blog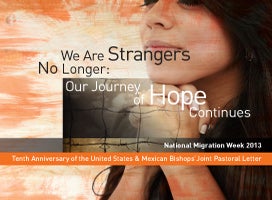 Many dioceses throughout the nation are observing this year's celebration of National Migration Week.
The primary theme of this year's celebration is  "We are Strangers No Longer: Our Journey of Hope Continues." This year's National Migration Week observance and theme commemorate the 10th anniversary of the historic joint pastoral letter of the United States and Mexico bishops conferences, Strangers No Longer: Together on the Journey of Hope. This theme reminds us of our responsibility as Catholics to help newcomers integrate in ways that are respectful, culturally sensitive and responsive to social needs, and of the ongoing need for comprehensive and compassionate immigration reform.
The Catholic Conference of Kentucky is celebrating the beauty of God expressed through the faces of people from different ethnic groups and cultures by joining the efforts of the bishops to push for passage of a just and compassionate immigration reform bill in Congress.
We invite your participation. Click on the poster above to send a message to Kentucky's federal Senators and Representatives.
If you have not done so please sign up for our legislative alerts:  action e-newsletter for updates on important issues for Kentucky's Catholics.
And don't forget to like us on Facebook and follow us on Twitter.
Poster: Courtesy USCCB National Migration Week Celebration
Tags:
comprehensive immigration reform
,
congress
,
immigration
,
National Migration Week